This blog has fallen by the way side. Victim of sheep obsession. We have been working a lot at the pasture, among other things.
For those of you who have emailed me asking about the next installment of the Photography Tips Series - please be patient. I am almost done with the next four installments & will be posting them soon.
That said....
My husband has been home everyday and driving me borderline wacko. The other night after he vacuumed everything in the world, he decided to vacuum the inside of the vacuum. It didn't stop there, he took it apart and
WASHED
the filters, cleaned out the canister & did other crazy things to our poor Dyson.
Now the washing machine is suffering from his cleaning frenzy. I swear to doG I can hear it screaming at me, begging for mercy.
Seriously, if he does not get called back to work soon, I may have to beat him to death. Maybe the washing machine will rise up in revolt and take care of the problem for me.
But he does barbeque a mean steak, does dishes, cleans the house, is easy on the eyes, smells good and I rather like him. I am actually happy to have this time with him. The last time he was on stand-by he was in a panic over money. This time we were prepared and he is enjoying his first vacation in years.
It is all good.
Since I don't have anything else to write at this very moment, I thought I would actually respond to Crooks & Crazies Tell Me Thursday...on THURSDAY!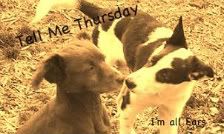 Questions for today:
1. In sheepdog training (or lets call it *any* type of training), how do you keep from taking yourself, your dog, your lack of progress too seriously? posed by Ann
I try to set small achievable goals for each trial. Sure, I would love to finish a course, or doG forbid - win. However, to be realistic I make sure my goals are aligned with reality which enables me to feel good about our progress, no matter how small. Every trial brings opportunity - even if it is just to see where you need to focus your training before the next one.
I struggle with taking things too seriously, because this is a deeply personal journey for me. Overcoming my anxiety and learning to keep my head in a healthy space is going to be a life long battle, on or off the trial field.
2. How many crates do you have? For reals.
3 in the garage
4 in the bedroom
2 in the car
1 in the guest room
10 Total (I think?).
3. How do you keep your dogs in shape?
Lots of work & running off leash. Now that we have our own sheep the dogs are working almost every day. The days they do not work we take them to the river or a near by field where they run their butts off.
4. Who is your favorite movie/tv star eye candy at the moment?
Who needs to dream when they have this to look at every day?
The ORIGINAL Eye Candy. Ranger.
5. What is your livestock situation? Have your own? Borrow? Herd the cats? (You can substitute other equipment for livestock if you don't work stock with your dogs).
We rent a near-by 10 acre pasture where we keep our 5 Romney's, 5 Clun Forest, 3 Dorper/Katahdin mix, 1 ancient Black Belly Barb & a strange Llama named Jim. We have entered into a co-op situation with a friend. Monique will soon be adding her sheep and we will be breeding this winter for lambs in the spring. YEAH!